FORTHCOMING GIGs
HEY FOLKS SUMMIN HAPPENIN REAL SOON see below, IN MEANTIME MEIN HOST WILL BE MAKING (another) RARE DJ APPEARANCE AT THE CONNOISSEUR SOUL GIG FRIDAY 22th July, D2, that's 3 in a row, well worth getting down for a mix of soul starts at 24.00hours, that's midnight to you.... on til 4am yay
++++++++++++++++++++++++++++++++++++
And Finally folks we are back...... August 7th 2015 see's the return, Beehive Basement, Busy Bee Restaurant, Dame Street, D2...10pm til 3am (maybe later) €5
DJs: Danny D, Martin Goggin, 1AM Harpo
This is a small venue in the basement, central city, nice buzz :) hope you can make it......A poster be here soon
+++++++++++++++++++++++++++++++++++++++++++

Hi folks sorry lack of update here: There hasn't been a Sleepless Nights since December 2013. I keep getting asked to put on again, it seems a crowded events list in Dublin but who knows.
Meanwhile
tamla45@hotmail.com and get on mailing list or see us on facebook: Sleeplessnights Sixtiessoulclub
Or listen to radio show on Dublin City FM 103.2. Also on internet. Saturday 6.30pm - 7.30pm (Less any live GAA matches) SOULSEEKER Radioshow also find us on facebook
Friday 20th December 2013: Our Last ever Night, be there to send us off in style
Copper Alley, Arlington Hotel, Temple Bar D2 (Opp City hall)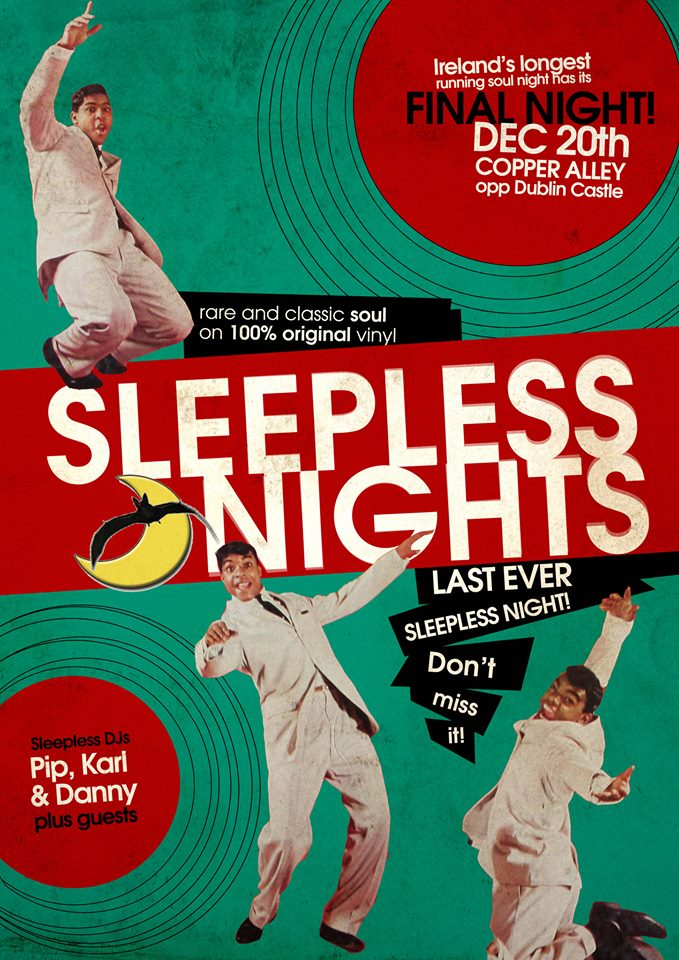 http://www.midastouchsoul.co.uk/
Copper Alley in the Arlington Hotel Temple Bar, opposite City Hall.
Great venue, with the usual friendly crowd and good mix of underplayed dance music.
The Hotel offers special discounts mention the event
Hello All

CATCH US ON FACEBOOK sleeplessnights sixtiessoulclub or to check dates tamla45@hotmail.com
We,ve moved a few times :)
HOTELS Nearby to venue
Arlington Hotel Temple Bar:
+353 1 670 8777
http://www.arlingtonhoteltemplebar.com/
Ashling Hotel +353 1 677 2324 4*
http://www.ashlinghotel.ie/
Jurys Inn Christchurch D8
+353 1 454 0000
http://dublinhotels.jurysinns.com/jurysinn_christchurch
Hilton Kilmainham D8

+353 1 420 1800

http://www.hiltondublinkilmainham.com




Beresford Hotel, Store St, D1 ***
Just reopened renamed, 120e doubleroom (ha these guys bought the good bits and have promptly closed it)

River House Hotel, temple Bar, cheap, but clean but in middle of temple bar

Belvedere Hotel, Great Denmark Street, D1 ***,
Old favourite as our previous venue location,

Jurys Hotel, Custom House IFSC, D1
Clarion Hotel IFSC, **** 140$ per room D1 bout 5 mins walk

Map Link:
http://www.yelp.ie/map/lafayette-caf%C3%A9-bar-dublin-2


Mailing list for updates on Rare Soul Events around Ireland, we can text ya too if send moby

tamla45@hotmail.com











SOUL KITCHEN RADIO SHOW
Every Saturday, 6-7.30 on local radio and internet Dublin City FM 103.2
with me Danny Duggan. Northern, Motown, Club, Deep, Funky and more